Foundation
Shri Tulsi Peeth Seva Nyas is a religious and social service institution based at Janki Kund, Chitrakoot, Madhya Pradesh. The institution was established by Guruji on Tulsi Jayanti day, 1987. Tulsi Peeth is situated at the place where Lord Rāma had given His Pādukās to brother Bharata. It is witness to the divine fraternal love between the Lord and one of his foremost devotees. Today, Tulsi Peeth is one of the leading publishers of literature on Hindu religious themes in India and the world.
In 1983, when Guruji was 33 years old, he performed his second Payovrata, a six-month penance during which he took a diet of only milk and fruits and spoke only Sanskrit, at the Sphatik Shila in Chitrakoot. Hemraj Singh Chaturvedi, also known as Nanhe Raja, was the Yuvraj of Chitrakoot at that time. He was so impressed by Guruji that he donated a 60 feet by 80 feet land area besides mother Mandākinī at Janki Kund to Guruji. At the insistence of Buaji (Gita Devi), Guruji got a small Āśrama constructed which had only four rooms. Guruji started visiting this Āśrama and performed some Kathās also. In 1986, he underwent his third Payovrata which lasted nine months at this Āśrama. Śrī Śrī 1008 Rāmacaraṇadāsa Phalāhārī Mahārāja wanted Guruji to stay with him at his Āśrama in Prayāga, but Guruji thought it would be a bondage for him. Meanwhile in 1988, Umacharan Gupta of Manikpur promised to build a bigger Āśrama and a temple at Janki Kund. He insisted that Guruji stay there permanently. Guruji agreed and on 11 March 1987, the "Kanch Mandir" was opened. On August 2, 1987, Guruji formally established Tulsi Peeth at Janki Kund. The title of Śrīcitrakūṭatulasīpīṭhādhīśvara was bestowed upon Guruji.
---
Temples
Kanch Mandir (काँच मन्दिर)
The Kanch Mandir includes the temple of Citrakūṭa Vihārī and Vihāriṇī (Lord Rāma and mother Sītā), along with the Raghav Satsang Bhavan. It is a temple with three Śikharas. Beautiful statues of Lord Rāma, mother Sītā and Lakṣmaṇa are lodged in the sanctum sanctorum, which are served everyday by a priest.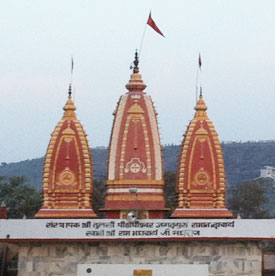 To the left of the sanctum sanctorum is a small temple devoted to Hanumān. To the right of the sanctum sanctorum are the idols of Ṛṣi Vālmīki – the first poet of mankind, Jagadguru Ādya Rāmānandācārya – the reformer of Sanātana Dharma, and Gosvāmī Tulasīdāsa – the poet of the Rāmacaritamānasa. All windows and doors of the temple are made of glass, hence the temple is popularly called Kanch Mandir. On the walls of the Satsang Bhavan, scenes from the Rāmacaritamānasa are displayed in multi-coloured glass paintings. The twenty-four incarnations of Lord Rāma as per the Śrīmadbhāgavatam are also displayed on the ceiling. Behind the Kanch Mandir is a a hall where a Bhandara is held daily. Free food is provided to all visiting devotees and saints every day in the Bhandara.
---
Manas Mandir (मानस मन्दिर)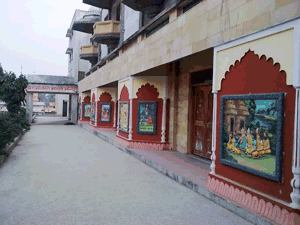 The Manas Mandir is a new bigger temple constructed in 2008 at the entrance of Tulsi Peeth. It has the entire Rāmacaritamānasa engraved on its white marble walls in black and red colours, following the version of the critical edition compiled by Guruji. Kathas of Guruji and several other speakers are regularly held in the Manas Mandir. At the centre of this temple is a bigger-than-life-size statue of Gosvāmī Tulasīdāsa. During the Navarātra, Ramlila is held every night in the temple. The hall can seat several thousands of people. On the outside walls of the temple are 3-dimensional paintings from different scenes of the Rāmacaritamānasa.
In this video, Guruji can be seen delivering a Katha on the character of Bharata on the Rāmanavamī day of Samvat 2069 (April 1, 2012) inside the Manas Mandir.
---
Manas Darshan (मानस दर्शन)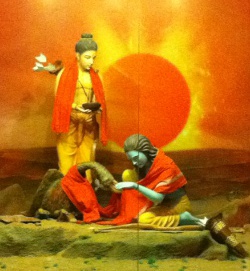 The Manas Darshan is an exhibition of 16 scenes from the Rāmacaritamānasa which was opened to public in January 2011. The permanent exhibition is housed in a large hall above the Manas Mandir but has a separate entrance from outside the Tulsi Peeth premises. The entrance fee is only Rs. 5 per adult. Inside the Manas Darshan are life-size moving statues designed by an artist from Mumbai, operated by electricity which showcase 16 evocative scenes from the Rāmacaritamānasa, each with a Chaupai painted on top. There is also an exhibition of photographs of Guruji from different stages of his life, along with a small office and feedback register. It is a must see place for anybody visiting Chitrakoot, to see traditional art and modern equipments come together. Here is a quick tour of the Manas Darshan exhibition. Manas Darshan is managed by Mrs. and Mr. Gopaldas Agrawal.
---
---
Other buildings
Tulsi School for the Blind (तुलसी प्रज्ञाचक्षु विद्यालय)
This is a small school for visually disabled students, which was established on August 23, 1996. It is managed by the principal Niruben who is herself visually disabled. Niruben is a great singer and also knows the entire Bhagavadgītā by heart, with the verse numbers. Next to the school is a hostel for the students. The students are given both school education and industrial training, at no cost.
---
Darshan (दर्शन)
This is the two-storey building where Guruji lives. The ground floor has the office of Tulsi Peeth (managed by the manager Sh. Agrawal) and a room for students serving Guruji and studying under Guruji. On the first floor is a small room for Guruji's rest, a large room with many books where Guruji meets visitors and bestows Darshan to devotees. In another small room on the first floor, the Raghav Seva takes place daily.
---
Bhakti (भक्ति)
Bhakti is a building next to Darshan where Dr. B. Pandey, the vice-chancellor of the Jagadguru Rambhadracharya Handicapped University, resides on the first floor. On the ground floor are two-room guest houses for visitors from the Raghav Parivar who come to stay on special occasions.
---
Shraddha (श्रद्धा)
This is a small guest house with simple amenities for guests to stay when they are visiting Tulsi Peeth. Next to the guest house is the Sitaram Gaushala which houses some cows and calves, and steps descending to the Mandākinī river where devotees can bathe on the Ghat.
---
Objectives
The following are the main objectives and activities of Tulsi Peeth:
Service to literature (साहित्य सेवा): Tulsi Peeth is involved in active study and propagation of works of Gosvāmī Tulasīdāsa (including Rāmacaritamānasa), Vedas, Upaniṣads, Vedāṅgas (including Vyākaraṇa), Rāmāyaṇa, Mahābhārata, Gītā, Purāṇa including Bhāgavata, Nyāya and other Sanskrit and Hindi literature. Tulsi Peeth publishes the monthly magazine Shri Tulsi Peeth Saurabh from Ghaziabad, and has published many works of Guruji including the Prasthānatrayī commentaries.
Service to the saints (संत सेवा): Tulsi Peeth performs service to cows through the Sitaram Gaushala where cows and calves are reared and cared for, and service to saints through the Sitaram Bhandara where all Sadhus and saints are provided with free Vaishnava food every day.
Service to the society (समाज सेवा): Tulsi Peeth runs and maintains the Tulsi School for the Blind which is ably managed by the principal Niruben. Tulsi Peeth also organizes regular Disability Camps where differently-abled persons are handed over aids like crutches, tricycles and prosthetic limbs for free. Free food and lodging is provided to all the camp participants and their family or helpers.